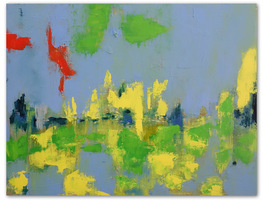 After a brush with death, brushing with life.
Late on a Wednesday afternoon, while working with a client in my Manhattan office, I began feeling dizzier than I had ever felt. I excused myself and went to the office manager who called 911. An ambulance hustled me to the emergency room. I was having a severe stroke, a hemorrhagic bleed, and for several days my survival was a question mark.
Then, bit by bit, with lots of help and rehabilitation, I struggled to learn all over again how to walk, talk, use my arms, fingers, and to speak so others could understand me. Would I ever be able to work again? Maybe, but doubtful. Independent living? Maybe again.
Intrinsically religious, I intended in my recovery to find a way to enjoy life and to give back for the gift of my existence. I soon realized, perhaps due to the stroke, that I saw the world quite differently now. Life was an emerging mosaic, full of people, colors, movement, mystery, magic. Hesitantly I began to paint. It seemed all uphill at first, but I slowly improved. In trying to capture my new view of the world, I found union with it. My art tries to share that mystery, its awe and wonder.
Life itself is a gift. It's a miracle that I am still here. Hopefully my art gives back with huge gratitude.